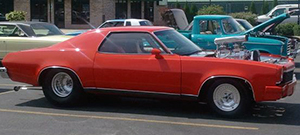 Bodily Injury Liability – Covers injury or death of your passengers or another person if your are found to be at fault an automobile-related accident.
Property Damage Liability – Covers any damage you do to other people property with your covered vehicle.
Collision –covers damaged done to your insured vehicle by anything that collieds with it weather it is your fault or not. (ie- and uninsured driver, shopping cars or another car while parked on a street)
Comprehensive (other than Collision) – Covers your insured car against damage from fire, lightning, flood, theft, glass breakage, falling objects and other specified perils.
Medical Payments – Covers you and your family household members in any vehicle related accident and anyone riding in your car for medical expenses resulting from an accident.
Uninsured/Underinsured Motorists – Covers injury suffered by you, your family and anyone riding in your car against the uninsured/underinsured motorist. State min limits are $20,000 per person, $40,000 per accident.
Uninsured Property damage- Covers your insured car from damage as a resulted of an uninsured driver if you do not carry collision coverage( this is an optional coverage)
Rental Car Coverage– Covers the cost of a rental car when your car was damaged in an covered accident.